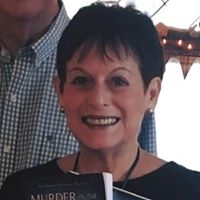 Karen Shughart
Historical Mystery, Suspense, Mystery, Cooking
During my career I worked as a teacher and journalist, and in public relations and non-profit management. Then, after retirement, I decided to try my hand at writing Cozy mysteries. Imagine my delight when my first Edmund DeCleryk book, Murder in the Museum, was immediately picked up by Cozy Cat Press. The adventure began!

Since then, I've written two more books in the series: Murder at the Cemetery and Murder at Freedom Hill. All books are maritime-themed clean reads with an historical backstory that is related to why the victim was killed.

There are plenty of twists and turns to keep readers guessing about "whodunit" and recipes by the sleuth's wife, Annie, who runs the local historical society and helps Ed solve the crimes along with local police chief, Carrie Ramos, and, starting with book two, young and handsome detective, Brad Washington. I hope you enjoy the books as much as I've loved writing them!
Video
Karen Shughart cooks shrimp, Feta cheese and tomatoes